DSLDP

DSLDP 2014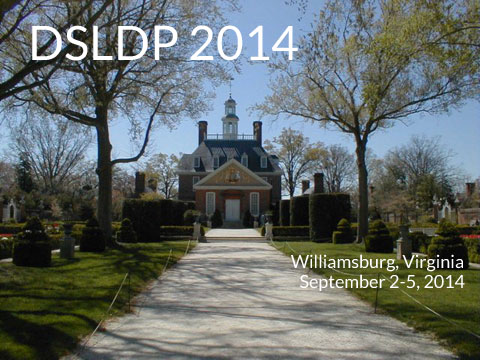 Location:
Williamsburg, VA
Dates:
September 2-5, 2014
Hotel:
Williamsburg Lodge
You can learn more about the Williamsburg Lodge at their official website.
Registration:
Registration opens in April 2014. Keep watching the DSLDP page for more details and announcements on DSLDP 2014!
Files and Handouts from Presentations at DSLDP 2013
Central Florida Presentation Resources - Larry Dennis, Presenter
Superintendents in the Church: Casting Theological Vision - Jeren Rowell, Presenter
Passionate Missional Outreach (Word, PDF) - Brian Wilson, Presenter
New Church Development Conversation Starters - Phil Fuller, Presenter
Intentional Leadership Development - Randy Craker, Presenter
Ecclesiology in the Church of the Nazarene and the Superintendency - Ken Mills, Presenter
Response to Ecclesiology Papers - Clair MacMillan, Presenter
Multifaceted New Church Development - Jim Kraemer, Presenter
What is DSLDP?
DSLDP is the  District Superintendents Leadership Development Program. It is a ministry of the USA/Canada Regional Office. The purpose of DSLDP is to provide support and training to district superintendents. The DSLDP conference is a time for district superintendents to network with each other and the regional office, and to train them for their position.