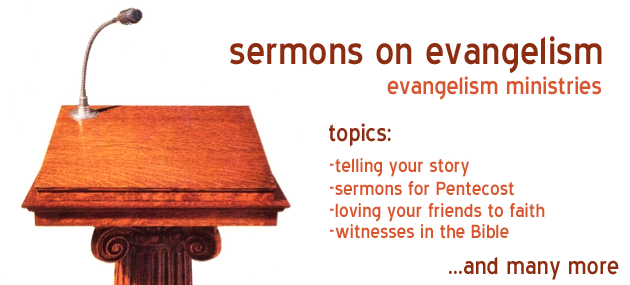 Pentecost Sermons on Evangelism by David Busic
Multiplying and Mobilizing Witnesses
Connecting the Church with the Unchurched: Why Share Your Faith?
Philemon 6 Outline - "I pray that you will be active in sharing your faith, so that you will have a full understanding of every good thing we have in Christ."
 
Evangelism Sermon Series Introduction:
In the Bible we read of men who saw God. They discovered God in ways that transformed them. What they saw compelled them to say something about Him. This reoccurring pattern is summarized in I John 1:1, "That… which we have heard, which we have seen with our eyes, which we have looked at, and our hands have touched—this we proclaim concerning the Word of life."
This sermon series takes us into the lives of men who encountered God. The encounter so inspired they felt compelled to tell other people. We are the benefactors of these rich interviews with God.
The overriding objective of these sermons is to urge church people to tell what they know about God from their encounters with Him.
Tell Your Story Sermons
A Slur That Compliments God  (Luke 15:1-7)
Impacting America  (John 5:1-14)
Telling the Next Generation  (Psalm 78:1-8)
Tell Your Family Sermons
Keeping the Front Door Unlocked and the Porch Light On (Luke 15:13-24)
A Family Questionnaire (2 Kings 4:8-32)
The Freedom of Family Forgiveness (Genesis 45)
All in the Family (Exodus 20:12)
Loving Your Friends to Faith Sermons
Becoming a Commissioned Christian  (Luke 24:36-49)
Becoming a Compassionate Christian  (Ephesians 4:25 - 5:2)
Becoming a Convincing Christians  (Ephesians 4:14-24)
Becoming a Credible Christian  (Ephesians 4:1-13)
Building Bridges Evangelistic Sermons - Sermons directed toward bringing people to a decision for Christ, or encouraging laity to reach the lost.
Becoming Friends With God  (2 Corinthians 5:16-21)
Coming Home  (Luke 15:11-32)
Discovering Jesus  (Matthew 27:41-54)
Experiencing More in Life  (Luke 19:1-10)
How Good is Good Enough  (Romans 3:21-24)
Lost or Found
Making Sense of Life  (1 Timothy 2:1-6)
Singled Out  (Acts 9)
There's Got to Be More
You Can't Have It Both Ways  (1 Kings 18)
Enlarging the Family of Faith Sermons
Derl Keefer, District Superintendent, Wisconsin
How Do I Put Life Together? (Acts 16:16-34)
Don't Delay (Matthew 24:36-44)
No Limit! (Mark 7: 24-31)
Meeting the Challenges of Life (Ephesians 2:1-22)
The Seal of God (Isaiah 61:1-4, 8-11)
Reaching Their Hearts Through His
Dr. Lyle Pointer, Professor of Evangelism, Nazarene Theological Seminary
Paul, the apostle, witnessed with words, deeds and signs. "Reaching Their Hearts through His" is a three-part sermon series amplifying Paul's holistic approach to bringing people into a saving relationship with Jesus. The sermons are based on Romans 15.
Witnessing with Words
Acts of Kindness
Signs of the Divine
Answering the Questions Jesus' Asked
Dr. Lyle Pointer, Professor of Evangelism, Nazarene Theological Seminary
We tend to focus on the questions we have about God.  And we have some serious questions to ask.  Perhaps we would do well to answer the questions Jesus asked to those living in his times.  This sermon series, drawn from the Gospel of Mark, places before the listener relevant questions posed by the Master Teacher who wants us to follow Him.
Why Are You So Afraid? (Mark 4:35-51)
Do You Still Not See or Understand? (Mark 8:11-21)
Who Do You Say I Am? (Mark 8:27-30)
What Good is Gaining the World If You Lose Your Soul? (Mark 8:31-38)
What Do You Want Me To Do for You? (Mark 10:35-52)
Are You Not In Error Because You Do Not Know? (Mark 12:18-27)
Winsome Witnessing
Dr. Lyle Pointer, Professor of Evangelism, Nazarene Theological Seminary
Christians want to share their faith effectively. Questions and fears can erase good intentions.  Your congregation probably needs the inspiration and instruction that shapes an evangelistic church.  These sermons coach and encourage Christians to love their friends and families to faith in Jesus.
Praying for the Non-Christian (Genesis 18:20-32; John 17:20; Matthew 23:37; Ephesians 6:19-20; Colossians 4:2-6; Philemon 1:5)
Increasing Your God Sightings (Exodus 33:12-23; Matthew 5:8; Matthew 13:13; Matthew 25:38f; John 1:18; John 14:9; John 19:25f; Acts 4:20; 1 John 1-4)
Searching with a Seeking God (Ezekiel 34:1-16)
Beyond Easter (Matthew 28:1-20)
When Jesus Comes (Mark 5:1-20)
Inviting the Unchurched (John 1:43-51)
Divine Drawing Power (Romans 5:1-11)
Reaching the Unchurched (Colossians 4:2-6)